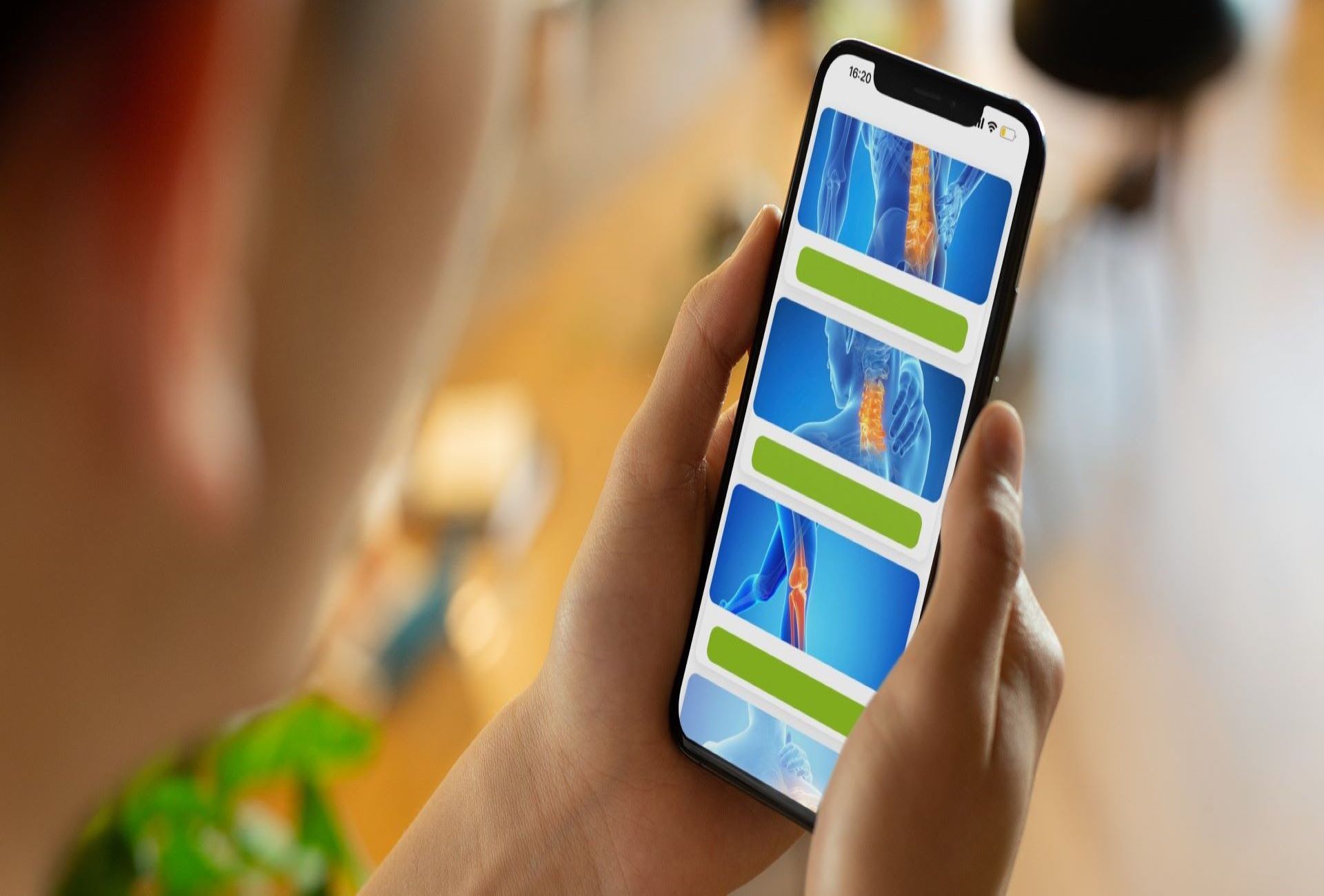 Need help with your muscle or joint problems?
The getUBetter MSK app is provided free of charge by Frimley Health & Care ICS for registered patients at GP Practices. It can be accessed on a Smartphone or on the Web, and guides you day-by-day through a sequence of exercises, tips, and support to help you recover from a range of new, recurrent or long term conditions:
Lower back pain
Back and leg pain
Neck pain
Shoulder pain
Ankle pain
Knee pain
Soft Tissue Lower Limb pain
Hip pain
You can self-refer to the app by clicking on this link
Please use an email address that is unique to you and select the condition you need help to manage. We will then send you an email with all the information you need to get started.
You can download the getUBetter MSK app to your Smartphone for easiest access, or you can use the Webapp.
If you develop another condition, select your new condition from within the app and it will be added to your account.
Masks In Practice
Masks In Practice
Due to the current situation regarding many viruses including flu and covid in circulation we are respectfully asking all patients to currently wear a mask when coming into the surgery for any reason.
We appreciate your cooperation at this time in keeping everyone, including surgery staff, safe.
Worried about Strep A or Scarlet Fever?
Dr Streeter De Diego, local GP, Paediatric Doctor & Clinical lead Frimley Healthier Together, talks through what to do if you're worried and when to seek help.
Domestic Abuse
14 Dec, 2022
If you're experiencing #domesticabuse, @RefugeCharity has lots of information to help and support you, with a quick exit button if you need to hide what you're looking at hurriedly. https://refuge.org.uk

The National Domestic Abuse Helpline offers support if you are experiencing domestic abuse. Domestic abuse includes coercive control, financial and verbal abuse, as well as violent behaviour. @RefugeCharity
https://www.nationaldahelpline.org.uk

If you're at risk of #violence, knowing how to make a silent 999 call might help save your life. When connected to 999, press "55" so they know the call isn't accidental. https://www.met.police.uk/contact/how-to-make-a-silent-999-call/

You can find Home Office advice on getting support if you're experiencing domestic abuse, available in Arabic, Bengali, Farsi, French, Gujarati, Hindi, Pashto, Punjabi, Somali, Turkish, and Urdu https://www.westyorkshire.police.uk...advice-other-languages/advice-other-languages
Our Vision and Values at Great Hollands Practice
14 Dec, 2022
Vision and Values
Our vision statement is:
"To promote a friendly family practice striving to provide the highest standard of health care.
We aim to promote the health and well-being of the local population by providing accessible, high quality medical care to people of all ages.
Great Hollands Medical Practice is committed to providing services that will exceed the expectations of our patients, aims to reduce inequalities and results in a a successful and profitable practice."
Our values:
Working together for our patients
Demonstrating a commitment to quality of care
Ensuring compassion is central to all that we do
Staying Warm and Cost of Living
14 Dec, 2022
Klinik - Online Consultations and Administration
26 Oct, 2022
We are very pleased to announce the introduction of a new system called Klinik for our online consultation provision across Bracknell & District Primary Care Network. This is an online service for appointments and administration for on the day urgent, non-urgent medical advice, long term condition management and enquiries. This therefore makes it possible for patients to contact us from a computer, smartphone or tablet through our practice website rather than relying solely on the phone.
Based on the information confidentially provided by the user, clinical enquiries are reviewed by a clinician and are then routed to the appropriate team within the surgery, or patients are advised by the system to call emergency services where necessary. Ideally, but not essentially, you should use your NHS App log in to access the system, meaning you won't have to enter your personal details each time you want to ask us something. This service is open for online submissions between 8am and 4pm Monday to Friday and we aim to review all clinical enquiries, prioritised by urgency, on the same working day although we may not contact you the same day. From 4pm to 6:30pm you can continue to access the surgery by telephone.
For further information on how to access Klinik please visit: Patient FAQs (klinikhealthcaresolutions.com) where there is also the opportunity to provide feedback directly to the provider.
With demand for medical advice and appointments continuing to be very high, we are always seeking innovations and new ways of working to provide the best service we can to our patients. We thank you for your understanding and patience during times of change, and ask for your continued kindness and respect to all our staff.
Thank you
Enhanced Access Service - October 2022
21 Sep, 2022
As of 1st October 2022, the extended hours and enhanced access services, which up until now have been delivered separately, will combine into one Enhanced Access Service, commissioned by our PCN, Bracknell & District and available to all patients within Waterfield Practice, Binfield Practice, Easthampstead Surgery, Great Hollands Surgery and Sandhurst Group practice.

For the time being, the service will continue to be subcontracted to the current provider, Berkshire Primary Care (BPC), and from the existing site, Boundary House Surgery, Bracknell, within the hours of 6.30pm to 8pm Monday to Friday and 0900 to 1700 on Saturdays.

We ask our patients to please take note that the new enhanced access service will not be running on Sunday, which is a change to the current provision. However, we will be working in partnership with BPC to develop additional clinics in line with national NHS campaigns and our population health insights, such as cancer screening, health checks and women's menopause support clinics. Full details and prior notice of these clinics will be given to patients.

The Enhanced Access Service offers our patients the same primary care services, such as GP face to face and telephone consultations, nurse, phlebotomy and healthcare assistant appointments, to meet our patient's healthcare needs. Please ask our patient services staff when you call the practice for an appointment about the Enhanced Access Service should an appointment out of core practice hours (0800 to 1830), be more convenient to you.

Help us help you get the right urgent care and support
17 Jun, 2022
Frimley Health has launched a new electronic patient record system that is affecting the Accident and Emergency (A&E) departments at Wexham Park and Frimley Park Hospitals. Safety remains paramount, so please be patient with the staff. Waiting times are likely to be longer than usual.
Unless it's an emergency remember there are lots of alternatives for you to make use of:
Visit your local pharmacy
During the day contact your GP practice via online consultation or phone
Contact NHS 111 online, www.111.nhs.uk or dial 111. If you are calling NHS 111, please be patient. NHS 111 may advise you to contact your GP or its out-of-hours service or attend the Bracknell Minor Injuries Unit.
For minor injuries, such as sprains and strains, suspected broken limbs, or minor head injuries, visit the Minor Injury Unit at Brants Bridge in Bracknell or the High Wycombe Urgent Care Centre – open 8 am-8 pm 7 days a week.
Anyone with a life-threatening condition should call 999. Help us to help you by seeking alternatives to A&E where it is safe to do so.
Covid and Flu Vaccinations 2022-23
7 Sep, 2022
Our COVID vaccinations are being offered with other surgeries via Berkshire Primary Care at Waitrose Sports and Leisure Centre, Willoughby Road, Bracknell RG12 8FP
Please watch the news section on this website for details of any national eligibility changes or walk-in availability.
If you wish to ring and book you can do so by calling Berkshire Primary Care on 01344 233300 and select option 1.
Covid Booster and Flu Update 2022:
Text messages and phone calls have started for those aged 65+ inviting them for their Covid and Flu vaccinations.
Currently patients over 70 can book any date from 12th September.
Patients aged 65 and over will be approximately 4 to 6 weeks after this date.
Patients under 50-65 will receive an invite in due course.
Patients who are at clinical risk should receive an invite in the next 14 days to book
Should you not receive an invitation and are 70 and over please call 01344 233300 to book
We would encourage patients to have both COVID & Flu vaccinations together.
All vaccinations will be at Waitrose Sports and Leisure Centre, Willoughby Road, Bracknell RG12 8FB
A minimum of 91 days must have elapsed between Covid vaccination, and patients should be at least 28 days clear of a positive Covid result or symptoms prior to vaccination.
Welcome to the new website
17 Jun, 2022
Welcome to Great Hollands Practice's new WEBSITE, we hope you will find it informative, useful and we welcome your feedback about it. We will try to keep it up to date as possible with surgery changes such as new patient services available to you, Covid changes and vaccine news and latest news.
Mental Health
14 Dec, 2022
Infection Control Annual Statement
20 Oct, 2022
INFECTION CONTROL ANNUAL STATEMENT 2022- 2023
Purpose
The annual statement will be generated each year in January.
It will summarise:
Any infection transmission incidents and action taken (these will be reported in accordance with our Significant Event procedure).
The annual infection control audit summary and actions undertaken
Control risk assessments undertaken
Details of staff training (both as part of induction and annual training) with regards to infection prevention & control
Details of infection control advise to patients
Any review and update of policies, procedures and guidelines.
Background:
Great Hollands Practice Lead for Infection Prevention/Control is Dr Kanchan Arora who is supported by David Jones (Practice Manager).
This team keep updated with infection prevention & control practices and share necessary information with staff and patients throughout the year.
Significant events:
In the past year January- December 2021 there has been 0 significant events documented regarding infection prevention & control. Previous years reports are available from Practice Manager.
Audits:
An internal Infection Control Audit is undertaken by the Practice Manager Annually and more recently in May 2022. No significant issues were identified.
An external Audit was undertaken in early January 2017 by the local CCG Infection Control Nurse and findings/action taken are available from Practice Manager.
Full copies of the reports are available from the Practice Manager.
Risk Assessments:
Regular risk assessments are undertaken to minimise the risk of infection and to ensure the safety of patients and staff. The following risk assessments related to infection prevention & control have been completed in the past year and appropriate actions have been taken:
Legionella risk Assessments are regularly undertaken by the Health Centre Management team.
Cleaning Audits are regularly undertaken by the Health Centre Management team
Cleaning spot checks by the Practice are undertaken regularly and appropriate action taken by reporting problems to the Health Centre Management. Health Centre Management have taken action in response to our reports.
Copies of these risk assessments are available from the Practice Manager or Health Centre Management.
CV19 Pandemic
A number of extra risk assessments and checks have been undertaken in preparation for, and during the Pandemic. These include Workplace Audit in conjunction with CCG and Premises checks focussed on infection control. We have also held a meeting with local CCG Infection Control Lead and CCG managers have inspected the premises to ensure safety of patients and staff working in the premises. Action and monitoring is ongoing to keep patients safe.
Staff training:
Staff have undertaken appropriate training and updates
Infection Control Advice to Patients:
Patients are encouraged to use the alcohol hand gel/sanitiser dispensers that are available throughout the Health Centre.
There are various leaflets available in the Health Centre on infection control issues such as the importance of immunisation.
Policies, procedures and guidelines.
Documents related to infection prevention & control are reviewed in line with national and local guidance changes and are updated annually (or sooner in the event of new guidance).
A copy of this statement is uploaded to our website for all patients to see.
Infection prevention control guidelines to remain in place
17 Jun, 2022
The highest priority for the NHS remains the safety of staff, patients and visitors. While COVID restrictions will end in many settings in England from 19 July, everyone accessing or visiting healthcare settings must continue to wear a face covering (unless they are exempt) and follow social distancing rules.
Public Health England's infection prevention control guidelines and hospital visiting guidance are therefore set to remain in place for all staff and visitors and across all health services including hospitals, GP practices, dentists, optometrists and pharmacies to ensure patients and staff are protected.
Read the infection prevention control guidance for further details.
Coronavirus (COVID-19)
17 Jun, 2022